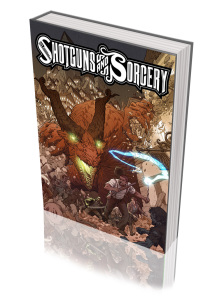 Earlier this year, the folks at Outland Entertainment licensed my Shotguns & Sorcery™ setting from me for use as a tabletop roleplaying game. They've been hard at work since then, getting everything ready for a Kickstarter drive to fund the game's publication. That Kickstarter launches tomorrow, November 18, at noon Central Time.
You can see a mockup of the cover here, of course, but better yet, you can go preview the Kickstarter right now. When you do, there's a "Remind Me" button in the upper left. Click on that, and you'll get a reminder email from Kickstarter the moment the drive launches.
Over there, you might notice that this standalone game will use the Cypher System™ engine from Monte Cook Games. Monte and his team developed this system for use with the best-selling, award-winning games Numenera and The Strange. It's a great system, perfect for use with the Shotguns & Sorcery setting.
On top of that wonderful news, Outland lined up superstar designer Robert Schwalb to handle the crunchy bits of the game conversion while I concentrate on the background material. Add in the phenomenal artwork of Jeremy Mohler—Outland's founder and CEO—and that's one bang-up team.
So go check it out and let the Outlanders know what you think. And please help spread the word far and wide. I'm hoping for big things from this game, and I'm thrilled to have you along for the ride.