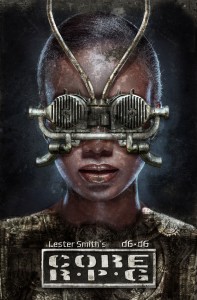 Among his many other talents, my pal Lester Smith is a crackerjack game designer. If you're a longtime tabletop gamer, you probably played some of his creations, including Dark Conspiracy and Dragon Dice. He's been working on a new tabletop roleplaying game for a while now, and I had the honor of playing it at the Nexus Game Fair a few weeks back with my son Marty and nephew Henry.
We had a ball. It's called the CORE RPG, and it uses a stripped-down system that puts the emphasis on entertainment rather than number crunching. If you like crunch, though, you'll enjoy the innovative d6xd6 system, in which you roll two six-sided dice and multiply them to get your result.
Lester's running a Kickstarter to get the CORE RPG into print. He set a number of stretch goals for it, and he's already thundered through the first one for a fantasy four-pack of settings, which includes my Shotguns & Sorcery setting, plus ones from Doug Niles, Tim Brown, and Bruce Heard.
Because the mechanics are simple, the settings are short too, and Lester has lined up a slew of other authors and settings. Many more than he's listed on his site so far. He's already knocked down the first couple stretch goals, and he has lots more to come. The PDF of the rules including all the stretch goals will only set you back $9, and the print version's only $21.
It's a great deal from a fantastic designer, so be sure to check it out. It only runs until August 3, so go over and back it before the clock stops ticking.