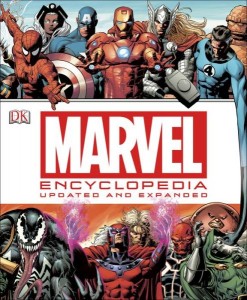 Believe it or not, The Marvel Encyclopedia hit the New York Times Best Sellers list this week! It squeaked in at the absolute bottom of the Games and Activities list, right there at #20.
Not bad for a book that came out in March. This is my first ever time on the list with any of my books, though, and I'll take it! Thanks again to all my collaborators and editors, as well as to the entire team at Marvel for making stories that are such fun to write about.
As I wrote a couple weeks back, the book made a fantastic run up the charts at Amazon.com, peaking at #5 in all books—before it sold out. That was two weeks ago, and Amazon still hasn't been able to restock. It's also showing shipping delays at Barnes & Noble, where it went as high as #14. (It may have gone higher, but BN.com doesn't have the same kind of tracking tools as Amazon.)
During that time, my Author Rank at Amazon rocketed up to #32 at one point, which is all sorts of insane. It's lowered down to far more reasonable levels now, and I suspect once the Christmas sales window is over, the glow will fade along with it.
Right now, though, I'm still kind of stunned, not only from the New York Times listing but also by the fact so many people are going to get to open this book up on Christmas morning. I hope they (and you!) all enjoy every bit of it.
At this point, the book seems to have sold out in many places (Books-A-Million claims to have them though!), but be sure to check with your local bookseller. That's probably your best chance to find a copy to put under a tree or have for your own—at least until the restocks come charging in.
Thanks to you all for your support!