Sale!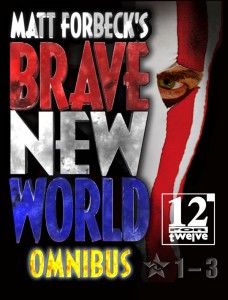 Brave New World: Omnibus
$14.97
Ask Not What Your Country Could Do For You. Ask What It Could Do To You.
This is the special omnibus collection of all three books in the Matt Forbeck's Brave New World Trilogy (and also the first three books in my 12 for '12 challenge from 2012). That includes:
At the moment, I don't sell this collection anywhere but here and at DriveThruFiction.com!). Altogether, these books normally run $14.97. Now you can grab them all at once for only $12 instead. 

Read the first eight chapters here for free.
Details
With your purchase, you receive a Zip file that includes the ebook editions of all three books in ePub (iBooks, Nook, etc.), Mobi (Amazon), and PDF formats. All formats are DRM free.
Print-on-demand copies are available through DriveThruFiction.com (in hardcover and trade paperback).
File Size: 10.5 MB
Print Length: 588 pages
Related