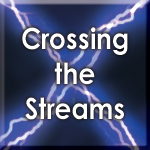 Welcome to Crossing the Streams, a massive, multi-author book giveaway. The great Ari Marmell put this together the first time back in 2012, and it's returned with a vengeance for 2014!
Once again, I and a cadre of other speculative fiction writers have thrown in together to create something huge for our readers.
Here's how it works:
Each individual author involved is running a contest on his/her own site. The specific details vary from author to author. The contest I run on my site might be very different than the one on Ari's site or the one Paul Kemp runs over at his site.
However, each contest has a few details in common. Specifically, each of us selects two winners from the contest on our own site. Each of those winners receives one signed book — free — from the author whose contest they won. So, for instance, if you win here, you get one of my books. If you win on Keith Baker's site, you get one of his, and so on.
But! That's not the big prize. Once the contests have ended, all the authors involved get together and choose one single super-winner from all the entries on all our sites combined. This one lucky individual receives a signed book — free — from each and every one of the authors involved.
Somebody out there's going to win around twenty free and excellent books.
You can only enter each author's contest once, but you may enter multiple contests. So you could enter here, on James Sutters' site, on Dave Gross's site, and so on, all the way down the line. You can enter on everyone's site if you want. (And even if you aren't selected as the super-winner, you might win more than one of the individual contests. You never know.)
You can find a complete list of the authors involved, as well as links to their sites, below. But first:
How to Enter My Contest
Again, these are just the rules for my contest. The rules for entry on other authors' sites might be very different.
For my contest, I'm giving away hardcover copies of my latest book: Monster Academy: I Will Not Eat People. It's a young adult fantasy novel about a young dragon who's captured and sent off to the Royal Academy of Creature Habilitation, otherwise known as Monster Academy.
To enter, just drop me an email at [email protected] with the subject "Crossing the Streams." In the body of the email, just tell me who or what is your favorite monster of all time—and why you think that monster would be sent to detention.
I will select two winners. I'll pick one based on which entry I think is the most fun. I'll choose the other completely at random, so even if you don't spend much time thinking about your monster and its troubles, you still have a shot.
Of course, everyone who enters is automatically also in the running for the random super-winner selection.
Entries must be received between February 19 and March 19, 2014.
So go to it!
The Rest of the Gang
Almost twenty authors are involved in this crazy cross-site contest. For your convenience, I have a list of names and linked websites below.
Scott Lynch (coming soon)
If you click on over to one or more of these sites, do yourself a favor. Don't just look at the contest page and then move on. Everyone involved in this contest is a talented creator, and I'm proud to count many of them as friends. If you like my stuff, chances are good you'll like some of theirs too.
So take a few minutes to give each creator a long look. Poke around their sites and see what intrigues you. Maybe even buy a couple books or at least throw them on your wish list. Spread the love.
Thanks, and good luck!