Gen Con starts tomorrow! This is my absolute favorite time of the year. I get to see old friends, make new ones, talk books, play games, and stay out all night — and these days, I even get to enjoy it with my wife and kids.
This is the 50th year for the show — as well as my 36th time attending in a row (I started young!) — and the folks at Gen Con are going all out to celebrate. As part of the coolness, Jon Peterson (author of Playing at the World) is curating an amazing Gen Con museum that's going to be built in the center of the Indianapolis Colts' football field at Lucas Oil Stadium. It'll be inside a replica of the location of the first Gen Con, which was held in Lake Geneva back in 1968: Horticultural Hall.
I'm thrilled to say they're going to have three of my things on display in the museum, which you can see in the photo below. They include:
A copy of my Brave New World RPG, which debuted at Gen Con 1999,
The mask that was worn by David Ross when he played Patriot (the main narrator of the game books) at that Gen Con Debut.
A copy of an award certificate I won for being part of the winning team in the first Gangbusters tournament, run by designer Mark Acres, held at Gen Con XV back in 1982.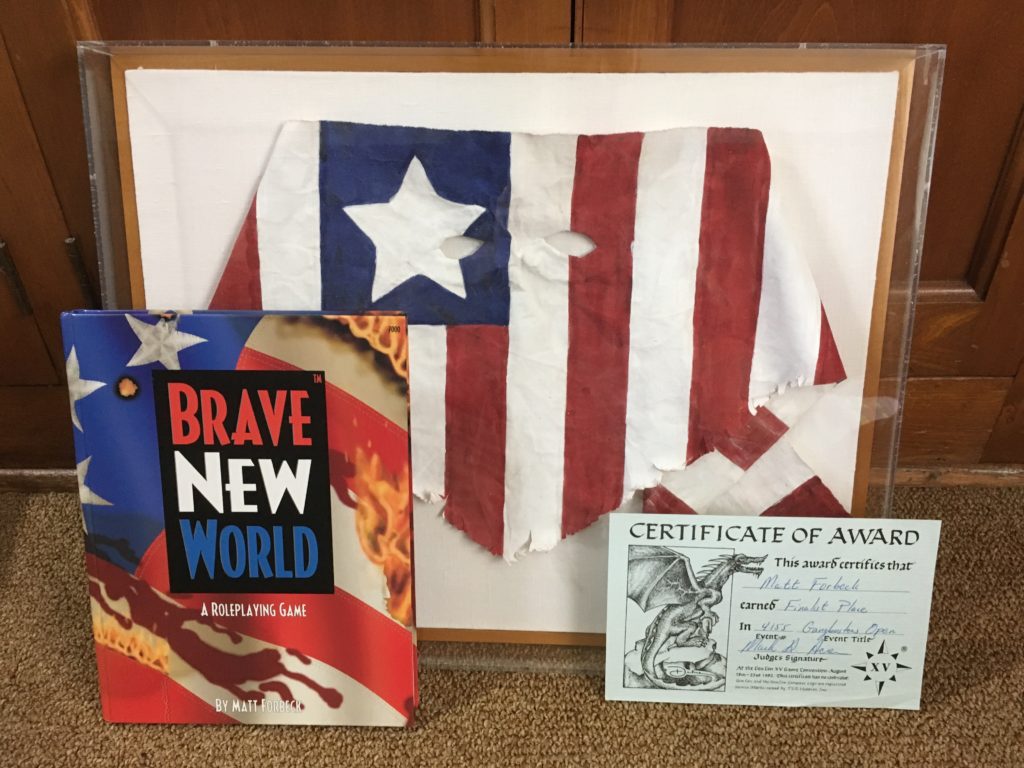 So, go see that!
Ooh! Also, check out a new game I worked on that's debuting at the show: Apocrypha. The creator of the setting, Rian Sands, hired me to help him write the background for it many years ago, and it's finally real! (If you squint, you can see my name on the front of the box, right next to that of kick-ass author and Worldbuilders founder Pat Rothfuss). Mike Selinker and the fantastic team he assembled at Lone Shark Games designed, produced, and published the game, and I can't wait to actually play it.

Amazingly, Gen Con has sold out this year, for the first time in its history. If you're lucky enough to have a badge and can make it into the show, you have a lot of fun ahead of you. While I'm there, I'm taking part in the Writer's Symposium, the Industry Insiders program (I'm on the advisory panel that selects the panelists), and the Gen Con 50 Retrospective program — as well as doing business meetings, catching up with friends, and playing games with my kids.
Here's what's on my public slate.
Wednesday, August 16
Thursday, August 17
Friday, August 18
Saturday, August 19
By the way, some of my friends have been posting things about how to deal with them at Gen Con. It's a high-stress, chaotic, germ-strewn environment, especially for us folks who usually spend all day alone in front of a computer, and hey, you deserve to know what you're getting into when you approach them. For me, I have two suggestions, which you can take advantage of as you like:
Buy my books (available at the bookseller in the back of the convention hall) and games (like Apocrypha).
Buy me a beer.
Hey, I try to keep it simple. Hope to see you there!