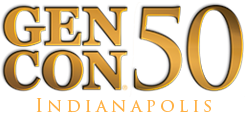 My schedule for Gen Con is filling up fast. Since I posted about it last, I've added a slew of new events.
This is the show I never miss. It's Gen Con 50—and my 36th time going in a row—so it's sure to be even bigger than ever.
If you're a gamer, there's no better place to be, but Gen Con's also a haven for readers and writers. The Writer's Symposium features dozens of amazing writers chatting about their books and their craft, and I always appear on three or four panels with them. On top of that, there's the Industry Insiders program, which stars dozens of the top game industry professionals talking about their craft. I'm on the advisory panel that selects these pros from a slew of applicants every year, and this year's packed full of amazing talent.
Anyhow, here's what's on my public slate. (The rest of the time, I'm hanging out with friends, having business meetings, and playing games with my kids. Not necessarily in that order.)
Wednesday, August 16
Thursday, August 17
Friday, August 18
Saturday, August 19