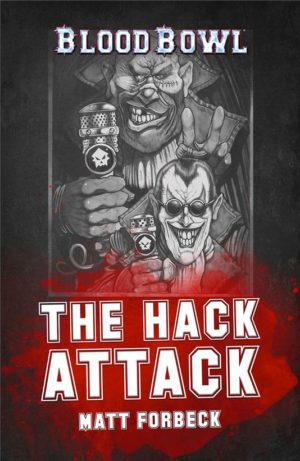 Sometime last year, Lindsey Priestly of the Black Library informed me that they were going to be publishing some short fiction set in the world of Games Workshop's Blood Bowl game, and she asked me if I'd like to contribute. At that time, I was the only person who'd ever written any fiction for the game — a fantasy football contest in which the fantasy consists of pitting elves, dwarves, orcs, ogres, vampires, skeletons, and so on against each other on the football field. To that point, my work included four novels and a five comic books that had been collected into a graphic novel, the last of which had appeared in 2009.
I wanted to turn it down. As I've mentioned before, I don't have a lot of time for short fiction these days, but hey, the chance to return to a setting and characters I'd written so much about so long ago was too tempting for me to pass up. So I wrote "The Hack Attack," in which Jim Johnson and Bob Bifford of Cabalvision fame interview Dirk Hoffnung for a special live edition of their show Where Are They Now? As it says on the tin:
The top-ranked Cabalvision show Where are They Now? is turning its attention to one of the greatest Blood Bowl teams of the past – the Bad Bay Hackers. What are the players up to now – did Dunk and Spinne ever tie the knot, did Edgar ever put down roots, and what possible employment could the ogre M'Grash K'Thragsh find after retiring from the game? As for Dirk, now team captain and co-coach, what are his plans once he retires and how will these impact on Jim and Bob, the eternally cheerful Cabalvision co-presenters?

Catch up with the stars of the Bad Bay Hackers in this wonderful retrospective by Blood Bowl novels author Matt Forbeck.
The story, which debuts today, is on sale now for $4.99. It's a great way to catch up with the characters from the novels and comics and learn what they've been up to since we last saw them. And, as you should know if you love Blood Bowl like I do, it's full of bad jokes and over-the-top violence as well. I hope you enjoy!