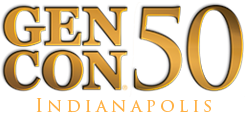 If you know me, you know how much I'm looking forward to Gen Con 50. My schedule for it is already filling up. It's not all been announced yet, but here's what's on the slate so far:
Wednesday, August 16
The Diana Jones Award party. (This is a private affair I host every year for industry professionals. If you're one and don't know about it, ping me for details.)
Thursday, August 17
Friday, August 18
Saturday, August 19
Sunday, August 20
Playing games with my kids.
Heading home!
Registration starts on Sunday, so get your wish list filled fast. I'll see you there!