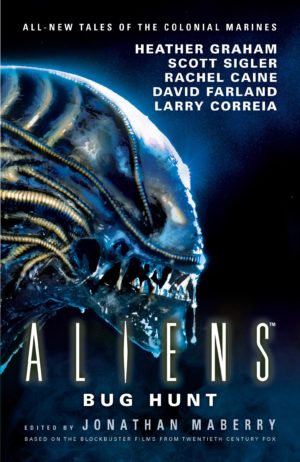 I've pretty much given up on writing short stories. I love writing them, but they just take too long to work on, especially compared to the kind of progress I can make on a novel instead. Just think of all the groundwork that goes into writing a story: coming up with characters, doing research, and so on. And then you have the choice between writing a 5,000-word short story or a 90,000-word novel. The novel makes a lot more sense.
Sometimes, though, an offer comes along that's too good to refuse. When bestselling author Jonathan Maberry asked me if I'd be interested in writing a short story set in the Aliens universe for an upcoming anthology he was editing, my heart shouted out "Hell, yes!" long before my brain could cut me off.
Sometimes, you gotta listen to your heart instead. So, yesterday the anthology finally came out. It's called Aliens: Bug Hunt, and it features stories from a fantastic platoon of writers, including Brian Keene, Christopher Golden, Dan Abnett, David Farland, Heather Graham, James A. Moore, Jonathan Maberry, Keith R. A. DeCandido, Larry Correia, Marina Lostetter and Mike Resnick, Paul Kupperberg, Rachel Caine, Ray Garton, Scott Sigler, Tim Lebbon, Weston Ochse, and Yvonne Navarro. If you need something to warm yourself up for Aliens: Covenant, this is the book for you. Go grab it!