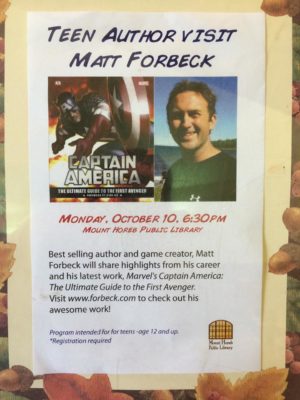 This coming Monday, October 10, starting at 6:30 PM, I'm going to be visiting the Mount Horeb Public Library in Mount Horeb, Wisconsin. I'll be talking about my Captain America book, but I'll also have a preview copy of my upcoming Dungeonology with me to show around as well.
The event is listed "for teens, ages 12 and up." (But really, aren't all teens 12 and up? 🙂 ) My friend Alex Bledsoe lives there and has been teaching teen writing classes, and he set the whole thing in motion.
If you're in the area—or know a teen who is—please come out and join us. Hope to see you there!