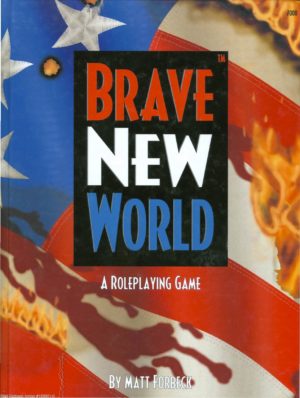 My friend Allen Varney runs a website called the Bundle of Holding, which I helped him launch a few years back. It's similar to things like the Humble Bundle and StoryBundle, in that it gathers together a bunch of electronic entertainment and sells it to you at a huge discount. It started out as a place to sell novels written by tabletop RPG writers, but it soon morphed into a site that sold massive bundles of RPG books instead.
Today, the Bundle of Holding launched a deal that features the PDFs of my 1999 roleplaying game, Brave New World. This includes all of the products currently available for the line: nine full books. The only thing that's missing is the long out-of-print guide's screen, known as the Power Shield, as that's never been released as a PDF.
After the American dream died in 1963 — when superpowered terrorists assassinated Jacqueline Kennedy — and the Bicentennial Battle destroyed Chicago in 1976, the USA has become a battleground where superpowered people known as deltas fight a US government under never-ending martial law.
The central theme of the game is this: How much freedom are you willing to give up to feel safe? 
Brave New World was inspired by many comics I loved, including Watchmen, Kingdom Come, Marshal Law, and American Flagg! Marvel's Civil War came out many years later, but the themes of that epic storyline make for an uncanny match with my game.
The total retail value of the titles in this offer is $120. If you pay just $11.95, you get all four titles in the Starter Collection (retail value: $57) as DRM-free PDFs:
Brave New World corebook (retail price $18): The 209-page rulebook.
Ravaged Planet (retail $15): The player's guide to the world of this alternate-history 1999.
Delta Prime and Defiants (retail $12 each): The sourcebooks for government deltas and the rebels who fight them.
Those who pay more than the threshold (average) price — which is set at $19.95 to start — also get the entire Bonus Collection with five more titles (retail value $63):
Bargainers and Covenant (retail $12 each): Character sourcebooks for two opposing forces: the deltas who broker deals with demonic forces, and the super-agents of the Catholic Church.
Crescent City (retail $12): From the ruins of Chicago rose this amazing high-tech city, home to more deltas than anywhere else.
Evil Unlimited (retail $12): If you want to use your super-powers to make a fortune, go to these guys.
Glory Days (retail $15): The World War II-era sourcebook for Brave New World — a time before it all went bad.
Note that 10% of the proceeds from your purchase go to benefit Human Rights Watch. Seems perfect, right?
The sale starts today at the Bundle of Holding, and it runs through 2PM Eastern US time, Tuesday, May 17. So, go grab it fast before it disappears!