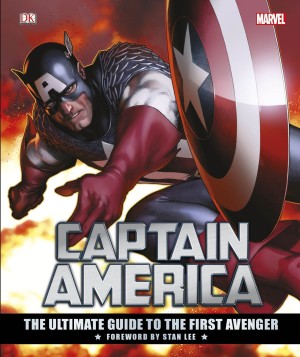 My latest book, Marvel's Captain America: The Ultimate Guide to the First Avenger, hits shelves today. This is a gorgeous coffee-table book featuring illustrations from dozens of fantastic artists, and it covers all 75 years of Captain America's history, from World War II all the way up to today.
I was the lead writer on this, but I had a lot of help from Dan Wallace and Alan Cowsill as well. Big thanks also go to my editors—Elizabeth Dowsett, Tori Kosara, Kate Berens, and Kath Hill—who kept all of us on track throughout a tight project. Thanks too are due to Rob Perry, Simon Murrell, and Mark Richards, who handled the book's glorious design. Cap's never looked better.
I also want to thank Stan Lee for writing a foreword to the book. When I was a kid growing up and reading Stan's comics, I never would have dreamed I'd be so honored.
DK's sending me on a mini-tour to help promote the book next month, so if you're in Milwaukee, Chicago, or Minneapolis, you should have the chance to grab an autographed copy soon. I'll also be signing books at the Beloit Public Library at 6 PM on April 14. Otherwise, you have no reason to wait. Go on out and grab yourself a copy now!
Thanks for your support!