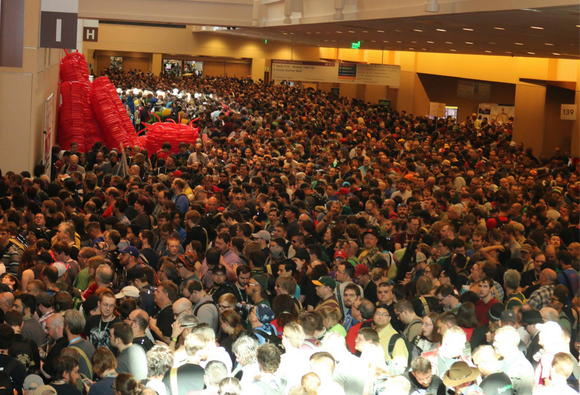 If you're a tabletop gaming professional and would like to a featured presenter for the Industry Insider track at Gen Con—hands down, my favorite event of the year—applications for that are now open. You need to register with Gen Con to even be able to read that page, though, so let me copy and paste the high points for you below. See the actual page for the full details, and check out the Industry Insider FAQ (PDF) too.
What is the Industry Insider Program?
Gen Con's Industry Insider program is first and foremost a program based around all things gaming related. It consists of a curated tract of events made up of seminars, panels, and workshops that are suggested and hosted by industry insiders themselves, events which are then highlighted by Gen Con. Each year the topics/events differ as the industry insiders' change, but they always remain based around games.

What Do You Look For In a Featured Presenter?
Gen Con strives to bring as much diversity to the Industry Insider program as we can, and so we want people from all backgrounds and understandings to submit to be a featured presenter. The advisory panel makes an effort to reach out to individuals not only for specific event types but who also represent different experiences. However, we are limited to who and what is submitted each year for event programming and the featured presenter list. We encourage people from all backgrounds and experiences to submit. If you know someone who would make a good fit, please encourage them as well.

What is Required of an Industry Insider Featured Presenter?
Industry Insider Featured Presenters must attend Gen Con and are asked to …

Participate in 3-5 seminars/panels over the course of the four days; flexibility is key.
Submit topics you are interested in and would like to host at the show.

What do Industry Insider Featured Presenters Get In Return?
Gen Con offers the following …

A complimentary "Industry Insider" badge (good for all fours days of the show)
Highlight, including a picture and bio, on our website and in a dedicated section of the program book
A hotel code that allows access to an exclusive block of "self-pay" rooms just for Industry Insider Featured Presenters (you are responsible for acquiring your room and covering the costs)
Access to the VIG Lounge located in the Convention Center. The VIG Lounge offers relaxed seating areas, free Wi-Fi, and complementary drinks among other things.
Early access to the Exhibit Hall on Thursday morning

Key Industry Insider Dates/Deadlines

| | |
| --- | --- |
| Featured Presenter Submission Period | March 18 – April 11 |
| Advisory Panel: Presenter & Topic Review/Selection | April 11 – May 9 |
| Featured Presenter Notification | On/Around May 2 |
| Picture Deadline | May 9 |
| Featured Presenters: Topic Review | May 9 – 16 |
| Event Registration Opens | May 15 |
So, what are you waiting for? If you're qualified, go apply, and please spread the word to anyone you think might make for a good fit. I'm on the selection committee, along with Nicole Lindroos and Ajit George, and I love seeing lots of great applicants.
Thanks, and good luck!