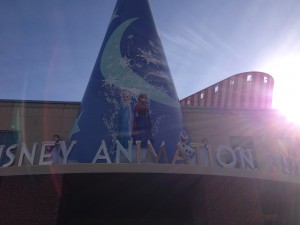 Last month, Corrina Lawson of Geek Dad/Geek Mom had to drop out of a planned junket to Disney Studios. I wound up going in her place and had a wonderful time. Not only did I get a guided tour of the inside of both the Disney Animation Studios and Disney Toon Studios—both of which are normally closed to the public—I also managed to find some time to see some old friends and to make a bunch of new ones.
Disney brought me and a couple dozen other mom and dad bloggers out to show us around so we'd write about some of their creations. This includes Frozen, Saving Mr. Banks, and Pirate Fairy (an upcoming Tinkerbell direct-to-video movie), among other things. My first post about the trip went up over at GeekDad.com today, and it covers the roundtable interview I did with the directors, writer, and producer of the Oscar-winning Frozen. 
My first day there, I managed to grab lunch with John Rogers (of Leverage fame). I hadn't seen him in person for a few years, and it was great to catch up with a Hollywood-style lunch. That night, I had dinner with all the other bloggers, and we all hit it off famously. Later, I joined Dave Wallach (of DadAllDay.com) for a drink, along with Mark Staufer and Bryan Erwin of the excellent podcast Dadsaster.
Dave wrote a way-too-kind post about me when he got back home, and I'd like to return the favor. I know a lot of great, funny guys, and Dave's at the top of the list. He's as generous with his time and his wisdom as he is with his humor, and he lights up like the dawn over Lakeshore Drive when he talks about his wife and kids.
Despite all that he's humble and personable as can be. It wasn't until a couple days into the trip that he let drop the fact that he'd played football for the University of Wisconsin his freshman year in college, before a knee injury sidelined him. He's produced more reality TV shows than I've had the chance to watch. And on top of all that, he's a damn fine writer too.
Inspired by the trip and the bloggers we met, Dave set up a new Facebook group called DAM (Dads and Moms) Bloggers. If you're one of those sorts yourself, be sure to jump on over and join us.
I'll have a number of posts to follow this up and show you inside the studios and the trip. Join me for the first installment today, and I'll let you know when the other bits arrive too.