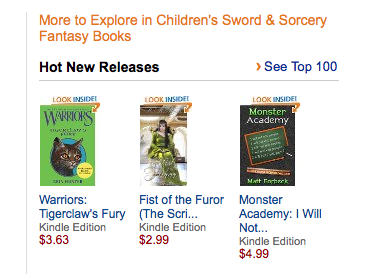 As you may know by now, Monster Academy: I Will Not Eat People had a fantastic debut on Tuesday! It spiked straight to the #1 spot on DriveThruFiction.com, and over at Amazon, it drove as high as #17 on the Bestselling Children's Sword & Sorcery ebooks list, and it's currently sitting at #3 in that category's Hot New Releases list.
The sale price of $2.99 clearly helped bump it a bit, but I attribute more of that success to the help from readers like you. As I mentioned yesterday, many kind reviewers posted raves about it, and several more friends helped spread the word on Twitter, Facebook, Google+, and more. Thank to every one of you for your help!
While the sale is over, there's still more Monster Academy stuff happening.
So, thanks once again for all your help. I hope you grabbed a copy of the book too, and that you enjoy it when you get the chance to read it. I can't wait to see more happy reviews!