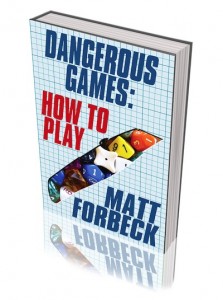 The fine folks in charge of my favorite event of the year (Gen Con) have given me two badges to the show to give away in support of the Gen Con Writer's Symposium. Since Gen Con is the greatest gaming convention in the world, I decided to run a little contest to see who gets them both — one for you and one for a friend. Here's how this works.
The contest runs on Twitter from now until noon Central Time on Friday, June 14. To join, all you have to do is write on Twitter something like: "I want to go to Gen Con and meet <insert author name here>. #GenConWriters http://wp.me/ph1fv-1hT"
To be clear, your entry needs to include the following bits:
#GenConWriters

The name (or Twitter handle) of a writer who is part of the Gen Con Writer's Symposium.
A link to this post. Use your own, if you like, or the one provided above.
For your convenience, the Gen Con Writer's Symposium website has a full list of the writers who will be helping out with the seminars this year. You can name anyone on that list that you like. I'm taking part in the symposium, but you get no extra points for naming me.
At the end of the contest, I'll randomly select a qualifying entry to win — probably by rolling a lot of dice — and I'll announce the winner here on my site. The grand prize is a pair of 4-day badges for Gen Con. Marc Tassin, who does a fantastic job running the Writer's Symposium, will mail the badges out to the winner. If that's you, I'll need your mailing address at that point.
The badges do not come with hotel, travel, event tickets, and so on. That's all up to you to cover on your own. The badges are $70 each right now or $80 each after June 29, so it's a nice prize as-is. To top it off, I'll toss in free copies of Dangerous Games: How to Play ebooks for both you and your friend.
I'll also randomly select another five runners-up, and I'll give each of them an ebook copy of Dangerous Games: How to Play too.
In addition to that, I'll keep a rough tally of the number of people who request each writer. I'm in the middle of revising Dangerous Games: How to Win — the third book in the series — right now, and I'll give the writer with the most mentions a cameo in the book.
Spread the word, and have some fun with your entry if you like. Embellish all you want. Tell me what you want to learn from that writer, what you'd say to him or her, or even what game you'd play together. All that's not necessary, of course, but it's better, as in "more fun."
Now, I realize some people don't truck with Twitter. If you're one of them, you can enter the contest by leaving a comment on this post instead. You don't have to bother with a link or the #GenConWriters hashtag here, but make sure you include a writer's name either way.
Thanks for taking part, and good luck!