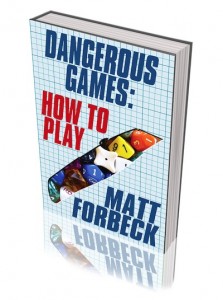 This piece appears in the back of Dangerous Games: How to Play, but I want you to be able to read it whether you have the book or not. 
In case it doesn't glow right through the pages of this book, let me make one thing clear. I love Gen Con. I've been going to the convention every summer since 1985, when my dad packed me and my friends into a van — a 1976 Dodge extended conversion rig we called the Magic Bus — and drove us over to the University of Wisconsin—Parkside campus, set in the middle of nowhere between Racine and Kenosha.
It hooked me good. As I write this in early 2013, I've attended 31 Gen Cons in a row, not to mention dozens of other gaming conventions. I've been a guest of honor at the show every year since 2003. Back when I started, the convention brought in something like four or five thousand guests. Today it's grown to ten times that size and shows no sign of slowing down. If anything, it's accelerating.
Gen Con is my favorite time of year. It's like a family reunion, summer camp, and Christmas all rolled up into one. I see all sorts of old friends, make lots of new ones, and talk about books and play games with them all.
These days, I bring my entire family to the show, and I get to watch the whole event through my kids' fresh and astonished eyes. It's a whole four-day weekend based on having fun: a magical time in a magical place. And once it's over, it disappears overnight like some geeky Brigadoon you can only pine for until its time comes around again.
Gen Con's been through a lot of changes of its own over the years. I could write a book about its history, but fortunately Robin Laws already has in his 40 Years of Gen Con. One of the best changes, though, was the fact that it wound up in the hands of Peter Adkison. I've known Peter since before he published Magic: The Gathering, the bestselling collectible card game of all time, and you're never going to find anyone who loves games more. He founded Wizards of the Coast, built it into a monstrous powerhouse that picked up Gen Con when it purchased its longtime owner, TSR (which created Dungeons & Dragons, of course). And he sold the entire company to Hasbro for more money than I could dream.
Then, when Peter had the chance, he bought Gen Con back from Hasbro so he could run it himself. Honestly, it's like Santa owning Christmas. You just can't see it being in better hands.
I started out as a regular player at Gen Con myself, but that didn't last long. I soon started to run my own games and volunteered to help companies like TSR run theirs. Some years I ran around forty hours of games in those four days and loved every last minute.
When I was 16 years old, I even had my own booth at Gen Con, at which I tried to sell my gaming fanzine called The Quill & Scroll. I sank every dime I had at the time — about a thousand dollars — into that venture, and it lasted a whole two issues before it had to fold. While it may have failed, I still consider that the cheapest education I ever paid for. I learned more about gaming and publishing and business that year than I could ever have picked up in any classroom.
As I was leaving for college Troy Denning — formerly of TSR and now best known for his Star Wars novels — introduced me to Will Niebling. Will was the first sales manager TSR ever had, and he'd become the gaming industry's most successful independent sales rep. He took me under his wing and brought me to all sorts of shows, including Gen Con. That meant I got to help demonstrate and sell games for Mayfair Games, Grenadier Models, Iron Crown Enterprises, and Koplow Games, among others. Soon, I even started designing games of my own as a freelancer and getting them published. And I had a ball doing it.
In 1996, I co-founded my own gaming company with my pal Shane Hensley: Pinnacle Entertainment Group. We had a series of hits, starting with Shane's weird western horror roleplaying game, Deadlands. We built a reputation for doing outrageous stunts during Gen Con, like staging an execution of a superhero — Patriot, played by the excellent David Ross — on the exhibit hall floor for the debut of my Brave New World superhero RPG.
I left Pinnacle at the end of 1999 and returned to freelancing. For a couple years after the quadruplets were born (still a whole 'nother story), I worked for Human Head Studios, heading up their tabletop games division and hosting their booth at Gen Con. I left them in 2004, and I've been on my own ever since.
Like most folks, I've had things change in my life, but Gen Con has been a constant for me, that guiding star by which I can navigate my year. It's a touchstone and a celebration and a mind-boggling extravaganza of fun all rolled into one. If I'm lucky, I'll get to keep going there every year until I can no longer pick up my dice, hopefully at a ripe, old age.
Join me if you can, and if you do, be sure to say hi. We — all of us — can always use more games, more fun, and more friends.