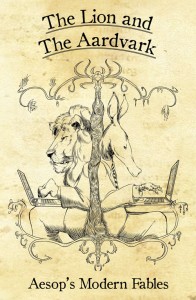 When Robin Laws asked me to pitch him a story for The Lion and the Aardvark — one of two books from his Stone Skin Press I have a story in — he called it Aesop 3.0. He wanted short and sweet story with clear messages, post-modern fables for a post-modern age.
I wrestled with a number of different ideas for the story, and I wound up throwing them all out. None of them quite fit.
Then I sat down and just wrote one. They're short things, after all, only a page or two at best, and I emailed it to him.
It's called "Cow and Dog." It's about the cow (who has one calf) and the dog (who has a litter of them) and how they deal with the ways this requires different things of them as parents. Robin loved it, so it's in the book.
The book features a cover by the multitalented Jim Zubkavich, best known these days for writing his fun fantasy comic Skullkickers. Besides "Cow and Dog," it's packed with dozens of tight little stories by dozens of authors, including Emily Care Boss, Richard Dansky, Graeme Davis, Ed Greenwood, Dave Gross, Rob Heinsoo, Will Hindmarch, John Kovalic, Nick Mamatas, Sarah Newton, Sandy Petersen, Epidiah Ravachol, Aaron Rosenberg, Gareth Ryder-Hanrahan, Greg Stolze, Monica Valentinelli, Chuck Wendig, and Jim Zub(kavich), among many others.
This is next on my reading list, and I cannot wait to crack it open and dip into this blizzard's worth of snowflake tales.