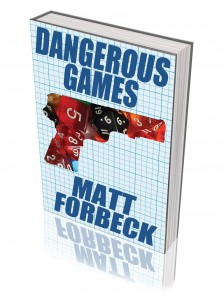 The Dangerous Games Kickstarter came to a thunderous end tonight, and I'm still sitting here stunned. This morning, we had $15,298 and 349 backers, and I was thrilled with that. After all, we'd already beaten the records of both previous Kickstarters in the 12 for '12 series on both counts, right?
My only hope was that we'd reach $16,000 so I could have a good excuse to write the Dangerous Games playset for Fiasco. I figured we had an excellent shot at it, but we'd had such a great run so far, I wondered if the drive might have tapped out early. And I would have been fine with that. 
But the numbers kept going up throughout the day. We cracked the $16,000 mark at 2 PM or so, and they didn't stop. At the end of the night, just before the deadline, they took a sharp jump.
I was glued to my computer for the last hour or two, just hitting the refresh button and watching the numbers climb, texting and chatting with friends on Twitter who were watching with me. At the end of it all, we racked up 389 backers, and we actually cracked $18,001!
WOW! 
Thank you all so much. Whether you supported with a pledge or spreading the word or even just crossing your fingers for me, you have my gratitude. I'm honored, flattered, and honestly flat-out humbled by the support. I cannot wait to write these books, and I'm going to make them the most fun I can.
Good night!