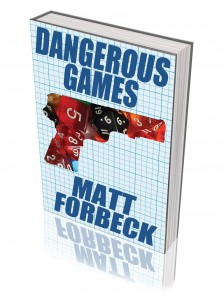 The Dangerous Games Kickstarter ends in just under 24 hours, at midnight Eastern Time on Father's Day, June 17. It has been a smashing success so far, and I want to thank each and every one of my backers for all that they've done, both financially (pledges), morally (encouragement), and socially (getting the word out). Together, we smashed the 12 for '12 records for both pledges and number of backers!
Honestly, I never dreamed it would go so well. I was a little nervous when I set the funding goal so high this time, but we not only shattered that but the first two Respect the Streak stretch goals too. As I write this, this is the #11 drive on Kickstarter's all-time fiction list, and we're only about $700 shy of the third stretch goal, at which point, I'll produce a Gen Con-based playset for the Fiasco game — after I'm done jumping around for joy.
If you can spread the word and let people know that time is running out — or back the project if you haven't already — I'd appreciate it. Just one last push here, and then it's all over but the writing! Thanks so much!