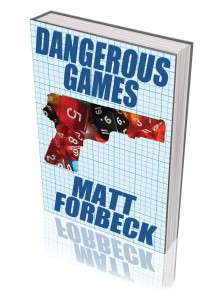 I just launched my latest Kickstarter for my third trilogy in the 12 for '12 series: Dangerous Games. The pitch goes something like this:
Once a year, the greatest tabletop gamers in the world descend upon Indianapolis for Gen Con, the Best Four Days in Gaming, to play games, see friends, and have fun. They play things like D&D, Magic: The Gathering, Warhammer 40,000, Settlers of Catan, Munchkin, and everything else they can get their hands on. Mostly the competition is friendly.

Sometimes it is not.

When a world-famous game designer turns up murdered at the convention, a group of gamers makes it their quest to figure out who killed him, and why. As they dig deeper, they start to question everything they thought they knew about the man: who he is, why someone hated him enough to kill him — and if he's really dead. In the end, they must figure out who's playing whom or risk not only losing this most dangerous game but their lives.
If that sounds like fun, check out the video below too, and then head on over to Kickstarter and place your pledge. The drive ends on June 17 (Father's Day!), but that'll be here before you know it. 
If you can also help spread the word, I'd appreciate that. The 12 for '12 plan has been a huge success so far, but that all falls apart without help from wonderful people like you. Thanks!