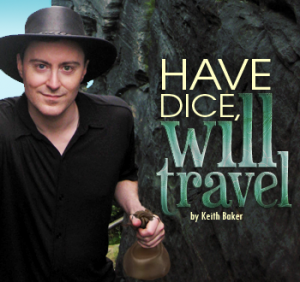 Over on his Have Dice, Will Travel blog, my pal Keith Baker interviews me about Shotguns & Sorcery. Among his many accomplishments, Keith is the man who created the Eberron setting for Dungeons & Dragons. As he writes in the interview, "When I pitched Eberron, I described it as The Lord of the Rings meets Raiders of the Lost Ark and The Maltese Falcon."
If you know how I've pitched Shotguns & Sorcery, that might sound familiar. I actually came up with Shotguns & Sorcery back in 2001, the year before the world setting search that unearthed Eberron, so it seems that was just the kind of idea in the air back then. I brought those sensibilities with me when I wrote The Lost Mark trilogy of novels for Eberron, which were the first books for the setting after Keith's own trilogy.
I'd tell you about the differences between them, but Keith asked me that question himself. So hustle on over there, and give it a read. Then — if you haven't already — grab a copy of the still-free "Goblintown Justice" to try it out for yourself.
Then check out the Shotguns & Sorcery Kickstarter. It ends in 63 hours, so don't wait!