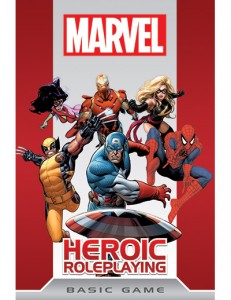 My pals at Margaret Weis Productions have their new Marvel Heroic Roleplaying Game ready to hit stores on February 28 —coincidentally the same day my novel Carpathia comes out in the US — but DriveThruRPG is selling the PDF edition starting today. It's already skyrocketed to the top of their Hottest Items chart. At only $12.99, I can see why.
I worked as part of the original design concept team on this game. That means I chipped in ideas with the rest of the Illuminati that developer Cam Banks assembled to help create the game. That included Rob Donoghue, Will Hindmarch, Phillipe-Antoine Menard, and Jesse Scoble, as well as Cam himself. I was often dubbed Black Bolt. I didn't say much, but when I did, people listened.
Add on the rest of the crew who actually wrote, developed, and edited the book, and wow, it was an all-star team. I had a great time with them, and I think it shows in the final product. If you're a Marvel fan, go pick it up. You won't be disappointed.