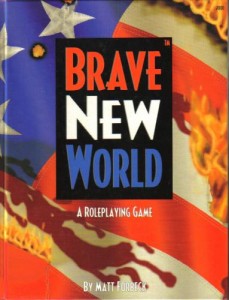 We only have 12 days left in my first 12 for '12 Kickstarter drive, so it's time to make a special announcement. One of the most frequent requests I've gotten for new rewards is to figure out some way to include copies of the original Brave New World RPG. Because I don't publish that game — my friends at AEG do — I can't just toss in copies. They're not mine to give.
HOWEVER, thanks to my friends over at DriveThruRPG.com, I'm able to give any backers who pledge $25 or more a private link that allows you to grab the PDF of the core rulebook through DriveThruRPG.com for only $5! That's a savings of $13 off the standard price, or over 72% off.
I'll send the link out as soon as the drive ends on December 4. I won't see any of that extra money, but I wanted to do what I could to make sure that those who want a copy of the original game have a chance to grab it cheap.
So, please spread the news far and wide! I want as many people as can to take advantage of this bonus. Many thanks to DriveThruRPG.com for helping me make this offer, and special thanks to all of you who have stepped up to back 12 for '12. I literally couldn't do it without you.