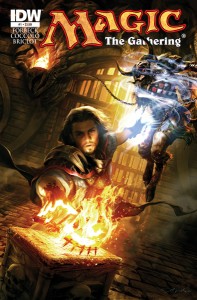 Yesterday, IDW released its solicitations for its comics coming out in December. Among many other amazing things, this contained more details on the first issue of the Magic: The Gathering comic book I'm writing for them. While most solicitations are kept intentionally vague, it does reveal a few cool new bits about the book, including the names of the superstar artists working on variant covers: Eric Deschamps and Christopher Moeller.
IDW's really pulling out the stops to get some top artistic talent on the book, and I cannot wait to see their efforts. I'm proud to be in such excellent company, even if it means I'll have to work twice as hard to keep up!
Look for the full text of the solicitation after the break:
Magic: The Gathering #1
Matt Forbeck (w) • Martin Coccolo (a) • Aleksi Briclot (c)

Get ready, Magic: The Gathering fans, there's a new Planeswalker in town! In search of greater magical knowledge and on the hunt for the people who destroyed his town, Dack Fayden is the greatest thief in the Multiverse. When he gets his hands on his latest prize, though, he has no idea where it will lead him—or to who!

Retailers: See your order form for incentive information.
FC • 32 pages • $3.99

Variant covers:

Eric Deschamps variant cover!
Christopher Moeller variant cover!

Bullet points:

Includes an exclusive, playable alternate-art Magic: The Gathering card!
Ask your retailer how to get the rare Eric Deschamps variant cover!
Ask your retailer how to get the super-rare Christopher Moeller (JLA: League of One, Lucifer) cover!
Written by renowned author and game designer Matt Forbeck (The Lord of the Rings Roleplaying Game, Amortals, The Marvel Encyclopedia)!