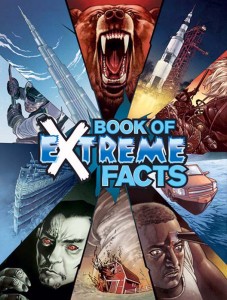 Book of Extreme Facts apparently is in stores for your enjoyment now. It's a collection of crazy records and facts that Kris Oprisko and I gathered for IDW, and it features illustrations by Brian Miroglio, Marc Rueda, Sagar Forniés, Mariano Saura Copete, Albert Carreres, Guillermo Perez, Yair Herrera (who illustrated my Complete Idiot's Guide to Drawing Superheroes and Villains), and German Torres. It also features a snazzy lenticular cover by Locke & Key artist Gabriel Rodiguez that gives it a 3D effect as you move it.
I had a lot of fun working on this book, and my kids have been poring over it since the moment my advance copies showed it. For some samples of what's in it, be sure to stop by the official site at BookOfExtremeFacts.com.
Meanwhile, check out this sure to be short lived record involving the book, recorded for RecordSetter.com.