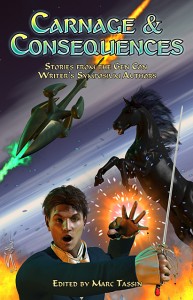 For the second year in a row, the Gen Con Writer's Symposium authors have assembled an anthology of short stories in time for release at Gen Con Indy. Marc Tassin did all the heavy lifting (and an excellent job) as the editor this year, and Steve Sullivan published the book through his Walkabout Publishing. This year's volume is called Carnage & Consequences, and it features stories from Anton Strout, Michael A. Stackpole, Jean Rabe, Donald J. Bingle, Linda P. Baker, Kelly Swails, Wes Nicholson, Maurice Broaddus, Jennifer Brozek, Dylan Birtolo, and Mary Louise Eklund, plus Marc, Steve, and even me.
My story, "Goblintown Justice," is the second set in my Shotguns & Sorcery world. It'll come out before the first one I wrote, "Friends Like These," which is slated to appear in The New Hero II, edited by Robin Laws for the new Stone Skin Press. Knowing that, though, I set them up so you can read them in any order.
Marc liked "Goblintown Justice" so much that he grabbed a slice of it for the teaser page for the anthology. Orders for the book are now open and should arrive in time for Gen Con. Savvy readers heading for the show might see this as an excellent opportunity to get a copy signed by loads of the book's authors. And they'd be right.
To whet your appetite, here's that excerpt Marc picked for the book:
I hailed a carpet flying overhead, and when it dropped down to street level I hopped on. "Where to?" the hack asked as the carpet lifted into the air.

"Skinned Cat," I said.

He craned his neck to look back at me. "Where's that?"

"Goblintown."

He brought the carpet back down to the street. "Forget it. I don't bring my ride there."

I understood his reluctance. Goblintown was the roughest spot in all of Dragon City. Because it squatted right up next to the city's outer wall, there wasn't a part of it in which you didn't hear the hungry moans and incessant scratching of the zombie hoard clustered on the other side of that massive stone curtain. Some people figured that was what made everyone so damned nasty in Goblintown. I suppose it was that and the fact that the people there sat at the absolute lowest point in the city, both literally and figuratively. All the shit in the city ran downhill.

"It's broad daylight," I said. "What kind of coward are you?"

"The kind who won't go into Goblintown," he said. "Get off."

I fished a gold coin out of my pocket and flashed the side with the Dragon's head embossed on it. "What if the Emperor asks you nicely?"

The man grimaced as if he knew better than to take the money, but he still put his hand out. I laid the coin into it.

"All right," he said, urging the carpet back up into the sky. "But I'm not waiting around for you. You don't have that kind of money. Nobody does."

— from "Goblintown Justice" by Matt Forbeck