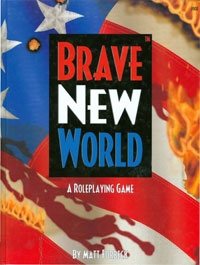 This is old news, I think, but I forgot to mention it when it happened. My friends at DriveThruRPG.com recently started a print-on-demand (POD) program for certain books they've been selling as PDFs. They've had the whole of my Brave New World Roleplaying Game line up as PDFs for a good while now (except the screen, which is hard to get use out of as an electronic file), and it's really the only place you can get new copies of the books in any form.
Earlier this year, they also chose to make the Brave New World core rulebook available in a POD version. While they don't offer the color pages of the original edition (they're included, of course, but in black and white), you can get the book in either a softcover or hardcover version. Plus, if you order a hardcopy, you can add on the PDF for only $2 more.
It's been a long time since I worked on this game, but it's still great to see it literally back in print. If you've ever been interested in it, be sure to check it out.