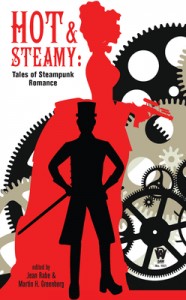 After taking part in the Writers Symposium at Gen Con last year, organizer Jean Rabe asked me to contribute a story to one of her upcoming anthologies: Hot & Steamy: Tales of Steampunk Romance. She co-edited it with Martin H. Greenberg, an icon in genre anthologies, and I'm pleased to say she bought a story from me for it.
This was a bit of a challenge for me, as I'd never tried my hand at writing a romance before. That may show in the amount of action I packed into this particular love story, but there's plenty of unbridled attraction running through it to pique anyone's interest. It's set in Georgia at the height of the Civil War, and despite all the work I did on Deadlands, I managed to resist putting zombies into it. More's the shame for some of you, I'm sure, but it's meant as a romantic tale, not a horror story, of course.
The book should hit shelves around June 7. I can't wait for you to read it!