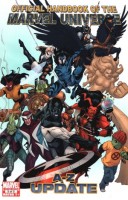 Last week, my first work published by Marvel Comics hit shelves. It's not much, just an entry in the Official Handbook of the Marvel Universe A–Z Update #5.
I wrote the entry for Raptor, a newish Spider-Man villain. I'd already read the comics, so I figured the workload would be light. Still, the rigor with which team leader Jeff Christiansen and the rest of the crew attack the entries impressed me. They have a well-oiled machine working these entries up, often under sharp time pressures, and I'm proud to have played a small role in this book.
I should have some entries in upcoming books in the series too. I can't spend too much time on them because of my many other projects, but they're too much fun for me to avoid.