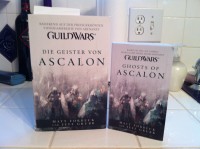 Last week, Ed Schlesinger, my editor at Simon & Shuster, sent over a copy of Guild Wars: Die Geister von Ascalon, the German edition of Ghosts of Ascalon. It looks amazing.
I don't know if all German novels are printed this way, but Marco Lupoi and his team at Panini Books knocked this one out of the park. As you can see from the photo, it towers over the English edition. It also comes with a classy spot varnish on the text on the front cover and spine, and the cover has huge endflaps that fold into the book.
It's also bit pricier. It retails for €12.95, which comes out to just over $18 at the current exchange rate. That's more than double the $7.99 cost for the US version. Still, it's gorgeous, and by all accounts Cora Hartwig did an excellent job with the translation, something that can't be easy when you're dealing with a fantasy world in which so much of what's there has been made up from whole cloth.
If you'd like to see a sample of the German book, check out its publishers' page. Scroll down, and you can download a sample of the first 36 pages of the book for free.