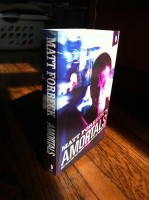 Last week, my first copy of the UK print run of Amortals showed up on my doorstep, courtesy of Marco and Lee at Angry Robot. It's a thing of rare beauty (okay, I'm more than a little biased), and I had to share it with you. It's a bit larger than your traditional mass-market paperback, about the size of my copy of The Girl with the Dragon Tattoo — or just a bit shorter than the massive Die Geister von Ascalon. It clocks in at just over 350 pages of story-packed goodness.
Of that, about 310 pages comprises the main story of Amortals, and the rest features some special treats for readers, much like the kind of extras you might find on a collector's edition DVD. This includes:
A note from me about how Amortals came to be.
The pitch I used to sell Amortals to Angry Robot.
The original synopsis for the book from when I first tried to sell it in 1994.
The original first chapter that went with that synopsis.
A preview of Vegas Knights, including the first two chapters of the book.
The book hits stores in the UK and ebook stores worldwide on November 4, a week from this Thursday. Tell your friends and neighbors! I can't wait for you to read it.