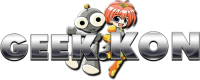 This weekend, I'll be reprising last year's appearance as a guest at Geek.Kon in Madison, Wisconsin. If you're anywhere near the area, come on out and say hi! Other guests include Chris Ayres, Bill Bodden, Jim Frenkel, John Kovalic,  Matt McElroy, Aaron Pavao, Raven Software, Eric Vale, Monica Valentinelli, and the Spoony Bards. (Check out the Guest List for all the details.)
Here's what I'm scheduled for:
Friday, September 3
Saturday, September 4
2 PM: Writing Panel
3 PM: Group Autograph Session
4:30 PM: World Building
Otherwise, I'll be wandering around the dealers' hall and chatting with folks. Hope to see you there!