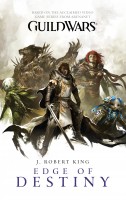 Jeff Grubb — my co-writer for Guild Wars: Ghosts of Ascalon — has been all over the place these days, promoting the book. Since it's due to hit shelves on July 27, less than two weeks away, now's the time, and I appreciate the help.
ArenaNet updated their page for the book. Head over there, and you can read a PDF of the first chapter of the book for free. You can also pick up a copy of a map of the world of Tyria that appears in the front of the book. On top of that, they updated the book's FAQ page, on which they reveal that the book will be translated and published in German, French, Russian, and Italian, as well as the original English.
Jeff also wrote a blog post for ArenaNet on writing the book. Besides details about the book, he also reveals the name of the second book in the series (Edge of Destiny) and the name of its author — the founder of my writing group, the Alliterates: J. Robert King. As a bonus, at the bottom of that page, you can get free Ghosts of Ascalon wallpaper for your computer desktop in a wide variety of resolutions.
Massively interviewed Jeff about the book, and he gave out all sorts of good details about it. Shawn Shuster of Massively had a chance to read the book before the interview, and he offered up a kind review of it too.
Jeff also spoke with Mike Fahey at Kotaku, who'd also had a chance to read the book. Mike clearly enjoyed the book, calling out the fact that "It's character-driven history." In the course of the interview, Jeff also reveals that "We've taken characters out of the book that appear in the game, and there are figures from the game that appear in the book. There's a strong connection between the two."
Jeff went on to speak with Ten Ton Hammer about the book too. In his interview with them, he talks a bit about how the book worked out, and he also mentions Rob King's book again, which I can't wait to read.