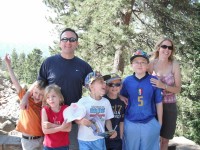 If it seems like it's been a bit quiet around here, that's because I haven't been around. I spent most of the last two weeks on one of those classic family road trips that American families insist on inflicting upon themselves every summer they can. (Cue up Lindsey Buckingham's "Holiday Road" from National Lampoon's Vacation.)
Ann and I packed the kids into the minivan for a two-day drive out to Colorado, where we spent a night at the house of my cousin Tim Kuhn, a professor at the University of Colorado. He was off at a conference in Singapore, but his wife Sophia and their two young kids — plus his mother, my Aunt Joan — took great care of us.
From there, we spent four nights camping out in Rocky Mountain National Park, our first time in a (very large) tent with the entire family. We wandered and hiked all around the place, including a drive to Grant Lake and back by way of the Trail Ridge Road, which winds up to a height of over 12,000 feet. On the way back up the Trail Ridge, which was under re-construction at the time, we ran into a thunderstorm during which we spotted lightning flashing below us. You might still be able to see the marks of my grip on the steering wheel.
While there, we saw deer, moose, mountain goats, lots of birds, and herds of elk. We cooked hot dogs, grilled cheese sandwiches, and burnt way too many marshmallows making s'mores. We spent one rainy day at the YMCA of the Rockies, which turns out to as big as a small town all by itself.
Every night, after everyone else was in bed, I sat at the picnic table and worked on my latest short story, which should be in an upcoming anthology this fall or winter. Working on a vacation is never fun, but it's the freelancer's lot. Still, tapping away at my keyboard under a full moon while elk cries echo off the surrounding mountainsides reminds me why I prefer to work for myself.
On the way back, we stopped to visit with Tim for a bit, who'd gotten back from his conference, and with his father, my Uncle Dick, who'd come out to help as well. Then we raced off to Kansas to stay with Ann's Uncle Marty and Aunt Jan. While there, we got to visit with a couple of her cousins (Kristi and Julie) and see her 98-year-old grandmother too.
I think I'm still recovering from the trip, but we all had a fantastic time. We're already making plans for where we might go next summer, but in the meantime we're determined to make the most of what's left of this one.