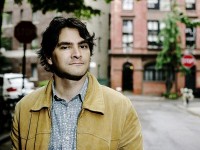 The music of a couple college pals turned musicians cropped up this week. Back in 2006, I revealed that I'd borrowed the name Ronan Lynch — the main hero of Deadlands — from an Irish exchange student I'd met at the University of Michigan. Ronan had worked as a journalist for a while but had moved to Germany to take up singing in a roots reggae band. Recently, he's helped launch Irie UP, a new magazine dedicated to the international reggae scene. I haven't had a chance to read it yet, but Ronan's always been one of the sharpest, funniest writers I've ever known, so check it out if you get the chance.
Better yet, I stumbled across the music of Steven Mark, an alternative folk artist (far too simple a classification, but it fits) out of New York City. That's him in the photo. Turns out I knew Steve under a different name back at U of M. (Doppelt, for those few out there who might remember living on 4th Tyler-Green in East Quad.)
Steve has released four albums over the past decade, and the tunes bring me right back to listening to him and my old roommate Dan King strumming their acoustic guitars back in the day. I've only worked my way through the most recent of the four discs at the moment, but Steve's come a long way since then and matured into an amazing musician. You can listen to one of his latest tunes for free at his website, or many more on his MySpace page. You can also pick up copies of his music through iTunes, CDBaby, and Amazon.