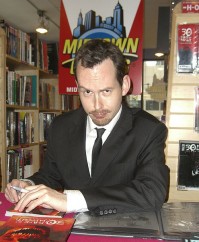 As I've mentioned, I hit up a lot of great people for blurbs. One of the early replies came from Ben Templesmith, one of my favorite comic-book artists of the last decade. I met him through our mutual friends at IDW a few years back. About Amortals, he wrote:
"It kicks like a mule & whispers sweet nothings in your ear like Mike Tyson in a boxing match."
Ben is one of those amazing talents that stuns everyone upon arrival. He's most famous for his work as the co-creator of 30 Days of Night, a vampire story in which a band of bloodsuckers rolls into the northernmost town in the US to party just as the sun sets for 30 days. The high concept sets the story up, but it's Ben's artwork (along with Steve Niles's writing) that pile-drivers it down. Ben's also rightfully well known for his work on Fell with Warren Ellis, and he's proved his own chops as a writer with Welcome to Hoxford, Wormwood: Gentlemen Corpse, and Singularity 7.
Ben's illustrations are the antithesis of the standard line art you see in most comics. When you first look at his work, you wonder how such energetic and seemingly rough-hewn pictures could tell stories so well. It's because Ben does an amazing job of infusing his creations with such human expressions and poignancy that they form a fresh and sometimes disturbing storytelling style. Plus, the work's just beautiful.
Ben's also as hardworking and level-headed a guy as you're likely to find, especially rare in someone with a sharp a sense of fun. He's relentless in finding new things to do and then doing them well, even while maintaining a grueling calendar of promotional events. Speaking of which, be sure to check out his latest comic book, Choker, written by Ben McCool. It's on stands now, and it rocks.