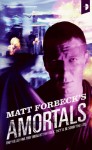 The fine folks at Angry Robot are gearing up their diesel-powered PR machine for the impending debut of Amortals. Check out the snazzy action-movie-style cover on the left for a good gander at their graphic-design chops. I'm in total love with it and have been staring at it as my computer's desktop background for months.
I have a lot more to say about the book and to help promote it myself, but I'm still blazing away at Vegas Knights, my next novel after that. Just brace yourself for loads of information about the book and why you're going to want to grab copies for yourself and all your friends.
While I'm chained to my keyboard, though, the Robots are still hard at work. They recently released e-book ARCs (advanced reader copies) of Amortals to their Robot Army. If you're a blogger or reviewer with a penchant for great genre fiction, you can volunteer for the Robot Army and get early access to Amortals and all sorts of other excellent books too.
They must have some fast readers in the Robot Army because one of them has already posted Amortal's first review, and it's a good one. (Whew!) As Lisa Farrell writes, "I really enjoyed this novel. It's gripping, exciting, imaginative." My favorite part of the review, of course, is its complaint: "My only gripe is, this novel is really American. I mean really American."
Guilty as charged. I can't wait for the rest of you to read it.