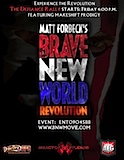 At Gen Con, the big event for me is Matt Forbeck's Brave New World: Experience the Revolution. At 4 PM on August 14, the Reactor 88 Studios folks show off the progress they've made with their finished proof-of-concept piece for a Brave New World feature film. This multimedia event also features a live concert by Makeshift Prodigy. (ENT0904588)
The event starts at 4 PM in the Grand Ballroom II & III in the Westin. It's free, although I recommend you get a ticket beforehand to guarantee entry. Makeshift Prodigy is one of Chicago's hottest new bands, and they rock. Hit their website and check out their music (under the "Media" tab), especially the track "Revolution," which figures large in the show.
At 2 PM on August 15, we'll return to the scene of the crime for Matt Forbeck's Brave New World: Revolution Feature Film Q & A: A seminar with the Reactor 88 Studios folks. I'll be there, along with many members of the cast and crew, to discuss the film and how it's coming along. (FLM0904589)
Tell all your friends and spread the word far and wide! The guys at Reactor 88 and Makeshift Prodigy have put a ton of work into this event, and I'd love to have a huge crowd there to enjoy the show.