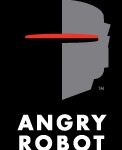 The press release went out early this morning (my time), which means I can finally announce that I've signed a deal for two original novels with Angry Robot, a new imprint of HarperCollins run by my old friend Marc Gascoigne (formerly of Black Library fame). This puts my new novels in some excellent company among the early Angry Robot releases, including books by my friends Rob King, Tim Waggoner, Dan Abnett, and (also announced today!) Maurice Broaddus.
As the press release says, the first of these books is Amortals, a gritty science-fiction mystery thriller in which the wealthy have unlocked the secret of eternal life by backing up their minds and uploading them into clones—which works fine until the world's oldest man wakes up in a new body and has to solve his own murder. The second is Vegas Knights, a modern fantasy heist/con story set in the City of Sin, in which a few young wizards decide to use their talents to break the bank, only to get played by wizards working for the house.
These are both stories I've been itching to tell for a long time, and I'm thrilled to finally be able to sit down and start writing them—just as soon as I polish off the first Guild Wars novel, of course! One of the banes of the working writer is that after a full day of writing other stuff, it's difficult to carve out time to work on your own stories, especially without a guaranteed sale waiting for those books when you're done. Now I have that, and I'm ready to roll!
More as I write it. Woot!